Events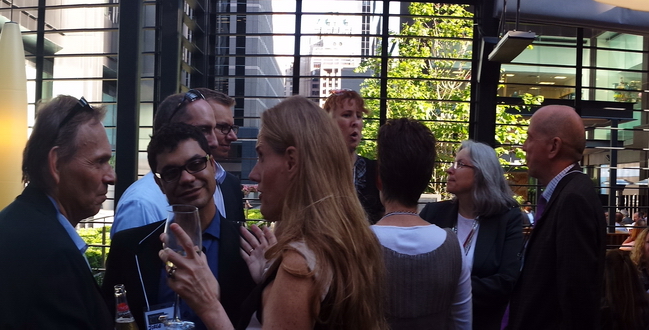 Blockchain: The New Horizon
Please join Accenture and Toronto CIO for an afternoon of robust discussion surrounding impacts and lessons learned thus far on the blockchain journey. We will consider themes such as:

-How blockchain can enable and transform your business.

-Blockchain use cases, applications and impacts.

-Technical considerations that CIOs need to be aware of in order to support strategic decision making within the organization.


Tuesday September 25, 2018
4:30 pm - 6:30 pm
Hosted at Accenture, Scotia Plaza
40 King Street West, Toronto - 30th Floor
Please take the elevator set on the street level
Small Group Discussion with Light Reception to Follow
Proudly Sponsored By:
ROAD TRIP to the West End of the Toronto-Waterloo Tech Corridor
Join AppCentrica and your Toronto and Waterloo-based CIOs for an afternoon of exploring the western end of our innovation corridor.

We will begin our afternoon with a technology tour of the Waterloo Region (Communitech, then hearing from expert Roger Melko about AI/ML research regionally and finishing at The Perimeter Institute).

If you are unavailable for the tour, please meet us at The Perimeter Institute starting at 4:30pm for a discussion with your CIO peers surrounding AI:

The "AI revolution" has been "just" around the corner for decades. But, in 2018, this grand vision for Artificial Intelligence has truly become mainstream. Everyone from the Harvard Business Review to industry analysts are simultaneously generating excitement, hope, fear, curiosity, and uncertainty about this next wave of technology. We have seen mind-blowing examples of AI technologies transforming our world. It's tempting to believe that the promise of AI transformation is just a software purchase away.

Yet, the reality for the vast majority of businesses, is that the use of AI as a transformative business strategy may be a long, arduous, and evolutionary process. The most profitable path is going to be incremental. Organize and develop appropriate business and use cases. Get alignment between IT and the business. Pay close attention to your data ­– the magic ingredient of AI. The first step for CEOs and CIOs looking to take advantage of this new wave of technology is to focus their efforts around a single but powerful question "What predictions matter to my business?".

Our formal meeting will end at 6:30pm when we will move across the street to Proof Kitchen + Lounge for dinner and drinks. If you are interested in car pooling options please email susan@torontocio.com to arrange. It will be a great afternoon and evening!
Wednesday October 10, 2018
1:30 pm - 6:30 pm
Area tour will begin at Communitech; Meeting and Discussions at The Perimeter Institute
151 Charles Street West, Kitchener
Waterloo Region Tour Followed by AI Discussion and Dinner
Proudly Sponsored By: